eoqo庐 16GB 1920x1080p Spy Pen Camera Recorder Hidden Camera | Real HD Spy Pen Mini Video Camera Recorder DVR Kit
SLIM DESIGN CONCEALED CLIP HD SPY PEN - Very thin design looks like normal sign pen,concealed clip to hidden camera lens hole no body can detect it's a pen camera;
1080P TRUE HD QUALITY | 1080 FULL HD VIDEO RECORDING - High definition HD SPY PEN with FULL HD video recording and crystal clear sound;Only audio recording and still shot functionality;Video Resolution is 1920x1080P/30FPS and photo resolution is 2560 x 1440;
PLUG & PLAY INTO ANY WIN/MAC - 16GB STORAGE; no more small micro SD cards, our pen includes 16GB of self contained storage for up to 6 hours of video storage and easy transfer to desktop computers to watch or edit;
CE FCC ROHS CERTIFICATED BATTERY - Built in 150mah rechargeable high capacity lithium battery DC 5v outlasts any other recording pen available,each spy pen camera can recording 45 - 48 minutes videos after full charged,not like other pen only recording 30 minutes;



Details
Real 1080P PEN CAMERA
High definition HD SPY PEN with FULL HD video recording and crystal clear sound;Only audio recording and still shot functionality;Video Resolution is 1920x1080P/30FPS and photo resolution is 2560 x 1440.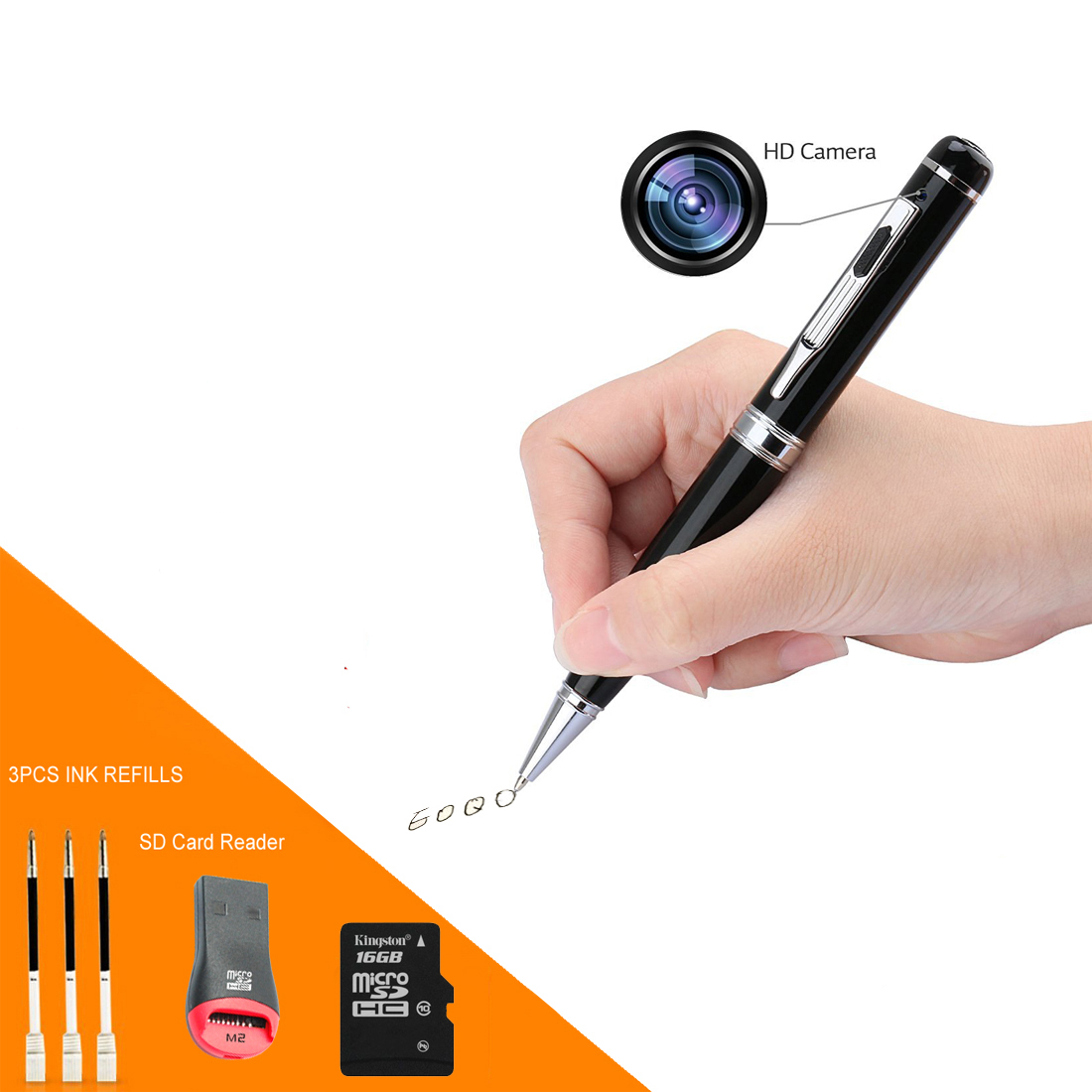 Specification:
Video Resolution: 1920x1080p video frame rate 30fps/AVI format
Camera Resolution: 2560 x 1440 - 1.3/2 mega-pixel camera /JPG format
PC and Mac Compatible 2.0 USB (with included USB cord)
Use for still images, video, or as a portable storage flash drive
USB standard port
No software necessary!The best plug and play spy pen on the market!
You can set data and time by yourself
LED indication
100% Rechargeable High Capacity Polymer Lithium-ion Battery. - Charge Voltage: DC-5V. - Record time: 45 - 48 minutes recording, 6+ hours of photograph
Memory: Ex-slot for micro SD card
FREE 16GB Storage Card and Small MicroSD card reader Included ($20 Value)
Beautiful Instruction Manual! Easy to read ,easy to understand!
Note:
A: This spy pen camera auto save every 10 minutes videos to a file to avoid loss any important video,normal for a full charged can recording 5 video files, about 45 ~ 48 minutes;
B: This spy pen camera need charging before using,charging time is 3 ~ 5 hours, if long time no use the battery will be empty, you must charging it first.
C: For the micro SD card plug/unplug please check the direction carefully,and do not plug it in too hard avoid destroyed the SD card frame inside.
Package Content:
1 * Spy Camera Pen Record HD 1080p
1 * 16GB Micro SD Storage Memory Card included
1 * USB Cable
3 * Ink Refills
1 * SD Card Reader
1 * User Manual
Questions (0)
Reviews